January 13, 2014
A poor SF neighborhood rallies for less auto parking
By: Michael Andersen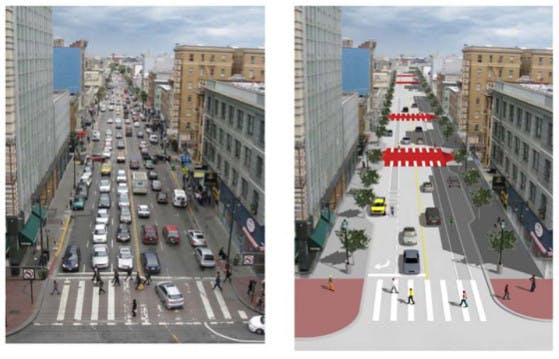 Before and after San Francisco's proposed 6th Street Improvement Project.
The trick to scoring community support for less auto parking on a street isn't to get hell to freeze or pigs to fly. As a new project in San Francisco is proving, sometimes all you have to do is ask residents what they want.
The catch is that you have to ask everyone – not just the ones likely to show up to public meetings.
On San Francisco's Sixth Street, the city is pursuing a plan to replace two general travel lanes with bike lanes and widen the sidewalks, removing dozens of paid auto parking spaces from the street.
They're doing it with full-throated support from residents in the area, many of whom live in low-rent, single-room occupancy hotels.
In fact, almost everyone in and around the neighborhood of the 6th Street project, businesses included, seems to think that the area would be better off with bike lanes, wide sidewalks and improved lighting and seating than with continuing to devote six full lanes to auto traffic and parking.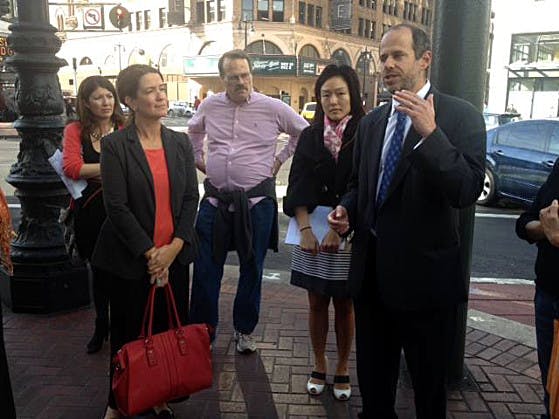 "We're talking about neighborhoods where the vast majority of our residents don't have cars," City Supervisor Jane Kim said in an interview. "They're more concerned with public safety."
"They don't really have communal space within their homes, so the sidewalks really serve that purpose," said Kim staffer Sunny Angulo. "That's something the neighborhood has said over and over."
In other cities, where low-income residents might be unlikely to participate in a public process about changes to their street, that voice might never have been heard. But in San Francisco, the nonprofit Central City SRO Collaborative organized residents of the neighborhood to share their opinions in surveys and public testimony.
"There's a lot of seniors, there's a lot of disabled people, and they feel dangerous sometimes just going outside their house and crossing the street," CCSRO organizer Priya Sawhney said.
Sawhney said about 40 mostly low-income residents showed up to a pair of public meetings dedicated to a redesign of 6th.
"At the meeting, people were concerned about wider sidewalks, better lights," said Kim, who represents the district. "People felt like the sidewalks were being used too much by bikes."
The auto parking also tended to be a visual barrier, some locals said, making the street more welcoming to small-time criminals.
"They feel that individuals that are dealing drugs are using cars as visual barriers to mask illegal activities on street," said Kim.
Sawhney said a group of city transportation employees who attended a meeting with residents "don't really get a chance to hear from specific community members, to hear their stories, like, 'This is what happened to me at this intersection.' – That was something that they really found to be profoundly helpful."
Kim, the city supervisor, said it's "unfortunate" that the proposed new bike lanes won't be physically separated from auto traffic, and hopes barriers might be added eventually, something she said would be "a game-changer for the street."
"But the fact that there is space for people biking is a fundamental change for the street," she added.
Sawhney said that some residents of the neighborhood voiced hostility toward bicycles, calling them a threat to pedestrians. But 42 of 116 survey respondents said they ride bikes already, and others said they'd like to ride if they owned a bike and had a safe way to use it.
Their support for the new design with bike lanes, however, was overwhelming.
"That basically pinpoints the larger system at play, which is that the streets are just made for drivers," Sawhney said. "It's a driver's road. So that needs to change."