September 4th, 2014
10 years ago next month, this letter to the NYT foresaw New York's biking triumph
By: Michael Andersen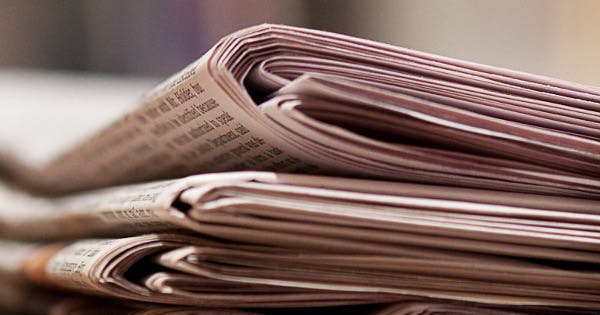 A stack of New York Times newspapers
This seems like a particularly good week to share the very first time protected bike lanes were mentioned in The New York Times.
It happened on Oct. 10, 2004, in a letter to the editor from a man named Kenneth Coughlin. It was a response to a personal narrative the previous week from a young Times reporter who had made the daring decision to start riding her bicycle to work. In that article, then-Transportation Commissioner Iris Weinshall had made the prediction that New York City could one day be "one of the world's great bicycling cities."
It seemed like an obviously ridiculous claim. In a city of 8.2 million, fewer than 20,000 New Yorkers biked to work at the time. There was no Streetsblog, no Summer Streets, certainly no Citi Bike. The Times reporter, Lydia Polgreen (later a decorated Times correspondent in Africa, now the newspaper's deputy international editor), described an incident in which she spent 20 minutes just looking for a place to lock her bike. Still, Polgreen came away from her first summer of bike commuting convinced that New York ("flat and compact … perfectly suited to biking") had potential.
You can still find Coughlin's 151-word reply to Polgreen on the NYT's website. Here it is:
To the Editor:
Your reporter's positive experiences with cycling in the city ("Spin City," Oct. 3) should embolden more New Yorkers to take to the streets on two wheels. But city government could do much more to make cycling safer and more widespread. What's stopping it, in many cases, is its co-dependent relationship with drivers.
Officially, the city laments car use and extols alternatives like cycling. But in practice it is loath to improve conditions for cyclists if it means constricting the flow of cars, such as by removing a car lane to create a physically separated bike lane.
Until the city grasps that it cannot enable the current level of driving and at the same time significantly improve the cycling environment, the transportation commissioner's vision of New York as "one of the world's great bicycling cities" will remain just a pleasant fantasy.
Kenneth M. Coughlin
Upper West Side
Coughlin was exactly right. The following year, Danish planner Jan Gehl visited New York and helped persuade city leaders to install the country's first parking-protected bike lane on 9th Avenue in 2007. Just as Coughlin's letter argued would be necessary, adding a protected bike lane required removing one of the four lanes that cars had been driving in.
9th Avenue was the spark that lit the fire. Here's what happened next, as documented by mentions of the concept in U.S. newspapers.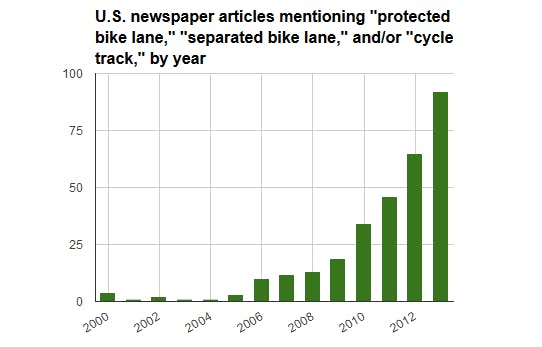 Seven years later, protected bike lanes have spread to 24 states and 53 U.S. cities — almost every single one requiring a little less street space to be devoted to cars. Three out of four people who live near the lanes, whether they use them or not, say they want more, and that's exactly what cities are delivering. As you read this, dozens of protected lane projects are nearing completion around the country, from Los Angeles to Boston to Lincoln, Nebraska.
And this week, 9 years and 11 months after Coughlin's letter first appeared on page A15, Bicycling Magazine crowned New York City as the country's bicycle capital.
Never underestimate the power of an extremely good idea.
So thanks, Ken. Looks like we all owe you one.